Celebrating ArentFox Schiff's Veterans: Jacques Smith on Going From Military Service to Client Service
Jacques Smith, Captain, US Navy, Judge Advocate General's Corps (Retired)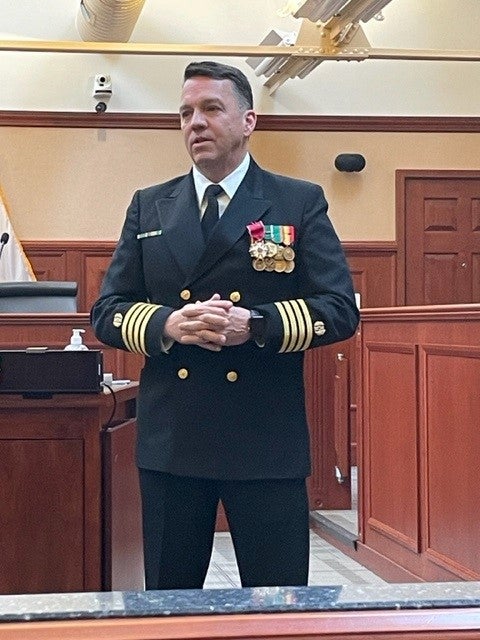 While attending law school at Louisiana State University, Jacques applied for and earned a commission in the US Navy's Judge Advocate General's (JAG) Corps. After completing officer training and with the onset of the First Gulf War, Jacques was deployed with the USS Ranger and USS Independence battle groups, marking the beginning of a combined 30 years of active and military service. Jacques retired in 2020 as a Naval Captain.
What motivated you to join the Navy, and how has your family influenced your decision?
I joined the Navy because service to my country was ingrained in me from a young age. My father was a paratrooper and served as an honor guard for General Douglas MacArthur during World War II. As such, from an early age, I keenly understood the value of service and sacrifice. I was taught to place country over self. When I was commissioned in 1990, my father was thrilled that our family's military service would continue.
What was your most rewarding assignment?
During the final 12 years of my service, I held various positions as a military judge. Initially, I served as a General Court-Martial Trial Judge before becoming the Chief Naval Reserve Judge. Subsequently, I received a nomination and served on the Navy Marine Corps Court of Criminal Appeals. The role of a judge was immensely rewarding – I relished the intellectual challenge and the responsibility of ensuring that justice was upheld in every case.
What were some of the most memorable experiences and milestones throughout your 30-year service?
I consider myself fortunate to have had numerous remarkable memories over the course of my 30 years of service. Deploying with battle groups, serving the fleet in foreign ports, and working while underway were all incredible experiences. Additionally, I was privileged to handle various cases and acquire invaluable experience as a young counsel. In fact, I took on my first capital case just nine months after completing Naval Justice School. This experience immensely shaped my professional path and honed my litigation skills at an important juncture in my career.
How has his military service impacted and enhanced your legal career?
I was fortunate to find a firm that values military service. Not only do my colleagues respect my active duty time, but they encouraged me to stay in the reserves and continue my service. I believe my military work has not only benefited me but also positively impacted our firm and its clients.