Celebrating ArentFox Schiff's Veterans: Matt Galo on Going From Military Service to Client Service
Matthew Galo, Lieutenant, US Navy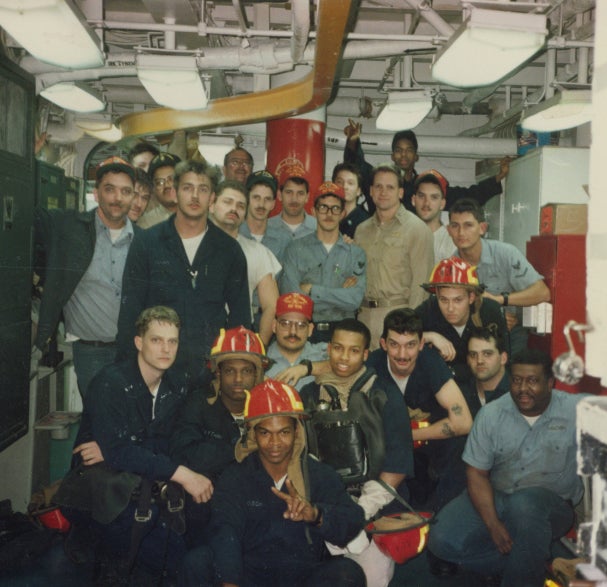 After four years in Naval ROTC at Notre Dame, Matt began serving on active duty in 1989 as a line officer in the Atlantic Fleet. He first served as a Division Officer (2nd Division - boats) aboard the battleship USS-Iowa (BB-61), and then served as Damage Control officer (DCA) aboard the Spruance-class destroyer USS Stump (DD-978). He completed his active duty in 1993, and started law school at Northwestern in 1995.
Why did you choose a legal career?
I had vague notions about a law career during undergrad and in the Navy. As I was planning for life after USN, I received some advice, to work first as a paralegal for a year or so before jumping into law school, to make sure I knew what I was signing up for. After detaching from the Navy in Norfolk, Virginia in 1993, I got a job with a 40-person law firm in Richmond as a corporate paralegal. It was a great experience, and fortuitously, it served as a sort of apprenticeship for the kind of work I do now. I was assigned to three corporate lawyers, and I worked on their deals and private company clients. After two years my wife and I and our one-year-old son moved back to Chicago to start law school at Northwestern, and then started at Schiff upon graduating. I haven't been able to come up with anything else to do since.
What does military service bring to your legal practice?
I like to think I learned project management skills from my time as a division officer aboard two ships; how to get a complex project done, using the personnel, skills, and materials you have, on time and well executed. I also learned how to communicate with and motivate people who were much different than me, from all walks of life. I learned time management skills, but my wife might tell you differently. But the greatest lesson learned was that leadership means taking care of your people. That was the very first lesson drummed into us at Surface Warfare Officer School, and on the job as an officer in charge of 75 enlisted boatswain's mates on Iowa, or 20 hull technicians and damage controlmen on Stump. And you might not think it, but that lesson has translated quite well to running an effective M&A and corporate law practice, where we build teams in service of our clients.
Why did you decide to serve in the military?
My father was in the Army Reserves after college in the early 60s, but otherwise we are not a military family. I grew up in Libertyville, Illinois, and had friends whose fathers were stationed at Great Lakes Naval Station nearby, and a former high school teacher who was a reserve Navy officer, so I had a general idea about the Navy. ROTC was a way to pay for college. The recruiting pitches were largely true: I was given leadership and management responsibilities at a young age, did interesting and exciting things, worked hard, and saw parts of the world I might not otherwise see.
What do you remember most from your time in Navy?
It was a long time ago, so the memories are a little more faded. But I most remember the people I served with, the things we did, and places we visited. Some snapshots: on Stump, we spent six weeks in grueling "refresher training" (REFTRA) at Guantanamo Bay, certifying the ship to be fully fleet-ready after a year-long overhaul in Algiers, Louisiana. On Iowa, I was the last "George Ensign" ― the most junior officer to report aboard ― and had goofy responsibilities like polishing all the brass in the officers' quarters. I remember my guys on Stump and the amazing work they did while out to sea: we were dead in the water one day, with a major pump system out of commission, and one of the crusty MRs (Machinery Repairman) fashioned on a lathe the critical parts to restore the system out of nothing but steel round stock, like an artist. I remember my good friend Tim, Gunnery Officer, with whom I served on Stump, and we've remained in touch to this day. I remember pride in accomplishment for helping the ship be successful in its missions, and for having served.
Special Awards:
Surface Warfare Officer Designation
Southwest Asia Service Medal
Navy Unit Commendation