KAWS for Celebration: Artist Prevails in Federal Trademark and Copyright Battle
Artist KAWS obtains a judgment for $3.35 million dollars and a permanent injunction against international infringers, highlighting the power of IP protection and providing valuable lessons for fellow creators navigating copyright and trademark battles.
Off
Renowned artist and designer Brian Donnelly, known by the artistic alias KAWS, recently secured a default judgment against international infringers in a federal trademark and copyright case. The case was filed through a complaint against over one hundred online infringers. These Schedule A complaints have become increasingly popular with rights owners in recent years due to its streamlined process for potentially obtaining significant judgments against foreign counterfeiters, while creating deterring effects.
KAWS's distinctive artistry revolves around a recurring ensemble of figurative characters and motifs, artfully depicted in various settings and poses. His art often features repeated use of figurative characters with distinctive visual elements such as skull-and-crossbones heads and X eyes. Two of his notable characters are "Companion," which showcases the KAWS skull, bones, and X eyes, and "BFF," a fuzzy creature sharing similar visual motifs with Companion. The defendants, mainly from the People's Republic of China and other foreign jurisdictions, operated as merchants on e-commerce platforms and exploited KAWS's copyrights and trademarks through online sales of artwork and merchandise using KAW's intellectual property (IP) without permission.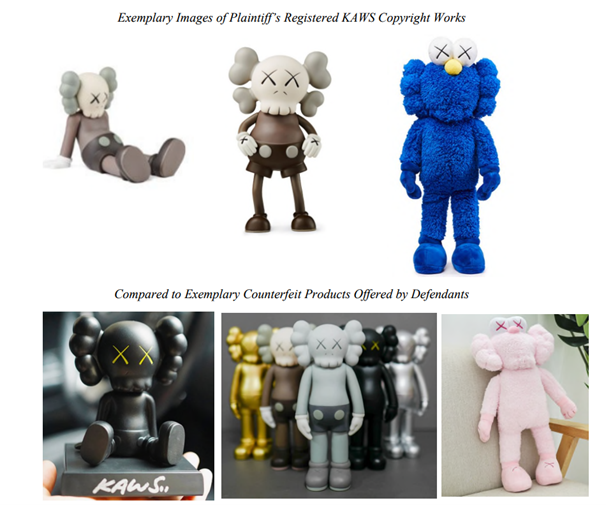 After the defendants failed to appear in court, a New York judge issued a default judgment against them, awarding KAWS $25,000 per infringing defendant, totaling nearly 3.5 million dollars ($3,350,000), and issuing a permanent injunction under both the Copyright Act and the Lanham Act. The judgment was largely possible due to KAWS's foresight in seeking to register his IP and elements of his creative output with the US Patent and Trademark Office and US Copyright Office. The key registered trademarks asserted in this case included registrations for the KAWS word mark, the below design mark (which KAWS frequently uses for eyes), and the below figurine head design mark. On the copyright front, KAWS asserted registrations for two visual artworks, "Companion" and "BFF." As we have reported earlier, while a trademark may be asserted in a US court without a registration, a copyright claim generally cannot be filed in a US court unless the plaintiff owns a copyright registration for the allegedly infringed work.
| Design Mark | Figurine head design mark |
| --- | --- |
| | |
Regarding trademark liability, the court found that KAWS successfully demonstrated his trademarks are registered, entitled to protection, and highly distinctive, and that the defendants' use of the marks without permission is likely to cause confusion. For the copyright claim, the court also found that KAWS demonstrated that he owns exclusive rights in his registered copyrighted works and that the defendants knowingly marketed and sold products embodying elements of those works without permission.
As this case shows, copyright and trademark registrations are key offensive tools that artists and creators can and should use whenever possible to protect their IP and creative works. Beyond that, creators can consider additional techniques to safeguard their output and bolster their IP protection, such as:
Utilizing technological measures: Implementing technological measures can help safeguard your copyrighted works and trademarks online. Digital rights management (DRM) tools can control access to digital content, preventing unauthorized copying and distribution. Watermarking or embedding metadata in your digital creations can also help identify and track unauthorized use.
Monitoring and enforcement: Regularly monitor online platforms, websites, and social media platforms for unauthorized use of your copyrighted works or trademarks. Online monitoring tools and services that can help identify instances of infringement or counterfeiting. When infringement is detected, rights owners should take swift action to enforce IP rights, such as by sending cease-and-desist letters, issuing takedown notices, and pursuing further legal action if necessary.
Diversifying registrations: If your creative output consists of multiple elements, such as designs, logos, word marks, slogan, or works of art, consider separate registrations for each work or element. This can potentially provide different layers of protection that may be used to go after different types of infringers. For example, in the KAWS case, the XX eye element has protection through multiple trademark registrations—both alone and in the context of a figurine head—as shown above, in addition to being an element in copyright registered works.
The KAWS default judgment underscores the importance of IP protection and offers valuable insights for artists and creators. In the ever-evolving landscape of IP rights, artists and creators must proactively pursue a comprehensive and adaptable approach to protect their valuable works. By combining copyright and trademark registrations, with alternative techniques such as technological measures, vigilant monitoring, and diversified registration, artists can fortify their IP protection, enforce their rights against infringers, and ensure the continued integrity and value of their artistic creations.
---
[1] Images from court docket: paragraph 63 of the Complaint in Kaws, Inc. v. The Individuals, Corporations, Limited Liability Companies, Partnerships, and Unincorporated Associations Identified on Schedule A to the Complaint, Case No. 1:22-CV-06721 (S.D.N.Y. Complaint Filed Aug. 8, 2022), Dkt. 1.
Contacts